Just off Tower Lane, the "606 Dance" had burst into bloom. Saxophones shrieked, and flute responded in a trilling, high voice. Bass hummed and rumbled, cuing in the violins. In the front row, Fanya Mayzlina heard strains of her childhood in old Kyiv, before the second World War upended her entire life.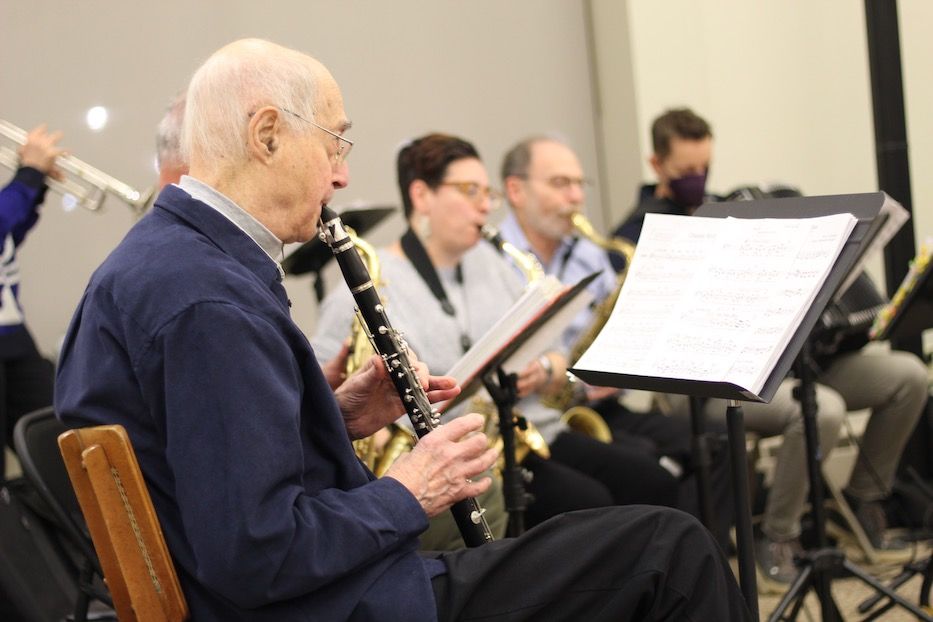 Mayzlina, whose story of survival spans three countries and almost nine decades, looked to music as a bridge Monday night, as members of the Nu Haven Kapelye arrived at The Towers at Tower Lane for their annual Hanukkah concert. For both residents and musicians, the concert has become tradition, bringing many in the retirement community back to their roots. 
"We lost our Jewish roots," said Mayzlina, a Holocaust survivor who came to the U.S. with her mother in 1991. "We lost our culture, Jewish culture, in Russia. We were interrupted far away from our culture. And I am deeply grateful … we need to revive our culture. It's necessary to be close to it." 
Monday, she pointed to the Kapelye as a powerful life force, reuniting many European Jews with a vital piece of their history. As the sky darkened outside, musicians opened on "Turetskaya," horns wailing to life as Artistic Director David Chevan held it down on bass. All the way to the right, Eli Jackson, Steve Jacobs and Seth Rosenthal joined in on violin. Back in the woodwind section, the clarinet and saxophones were having a party. Jay Miles came in with a rolling drumbeat that took it back to 1912.
"It's time to celebrate Hanukkah, yes!?" Chevan said, his eyes darting around the room in search of a menorah. He spotted a tinsel-wrapped Christmas tree in the back of the room and kept looking. Off mic, Cynthia Astmann flipped off the flashlight on her phone and began to wave it. "We're gonna have to have a menorah in our minds. Our imaginary menorahs."